Blu-U® Acne Treatment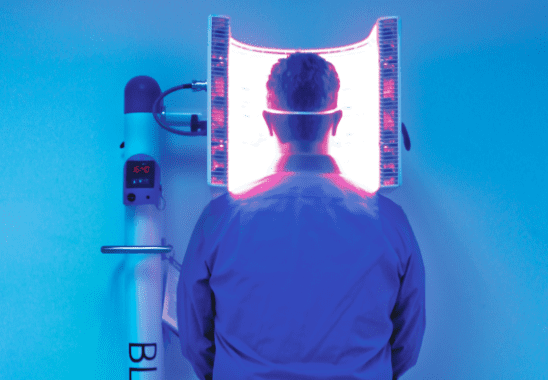 No one wants acne. Acne is estimated to affect more than 80% of the world's population at some time during their life. Fortunately, now there are options. Living with acne is no longer a condition that you have to accept.
Fiala Aesthetics Medical Spa, located in Altamonte Springs, Florida, is excited to offer the Blu-U® acne treatment.  This advanced method of treating light to moderate recurrent acne uses a non-laser visible blue light that kills the bacteria that cause acne in the first place. This treatment does not depend on medication or antibiotics and offers an effective, non-invasive, and pain-free treatment.
If you are interested in learning more about this safe and effective acne treatment, please call 407-339-3222 to schedule a consultation today. Fiala Aesthetics welcomes patients from the Orlando area and all surrounding Florida communities.
About Blu-U® Acne Treatment
The BLU-U® Blue Light Therapy system gained FDA approval in 2003.  Blu-U®  light is not UV light, so it doesn't cause skin damage or sunburns like the old UV lamps of the 1950s and 1960s.  When the blue light is used as a treatment for acne, the blue light penetrates deep enough into the tissue to reach the acne target, without negatively affecting the surrounding skin. Blu-U®  light gives you an alternative that is effective, patient-friendly, and without systemic repercussions.
The benefits of Blu-U® Light Acne Treatments include:
Reduce the number of painful acne pimples
Prevent scarring
Shorten the acne life cycle
Reduce the psychological stress and embarrassment that acne causes
Partially destroys overactive sebaceous glands
Kills the P.acnes bacteria, which causes inflammation
BLU-U® blue light system can be used alone as an acne treatment or it can be turbo-charged with Levulan® solution. Levulan is a topical drug that is absorbed especially well by abnormal cells and oil glands. Levulan makes these areas more susceptible to blue light treatment. Blu-U® and Levulan are considered the most effective acne treatments that do not depend on oral medication to treat acne. During this combined treatment, while inactivating bacteria, it also shuts down sebaceous glands and unclogs pores by exfoliating your skin. Thus, an additional benefit of this treatment is the cosmetic improvement of your skin, which can smooth the appearance of acne scarring. By addressing root causes, long-term reduction of acne is more likely to be achieved and this approach is often used in treating more severe cases.
For acne sufferers whose skin has become resistant to ointments and medications or for those who simply want to eliminate the daily hassles of treating acne, BLU-U® acne therapy has become a popular option. If you are struggling to control your acne and are looking for an alternative to medications or antibiotics, BLU-U® might be what you need.
Blu-U® acne light therapy is effective, painless, and has no known side effects. To find out if Blu-U® acne treatment is right for you, please call Fiala Aesthetics at 407-339-3222 for your consultation. Dr. Fiala and his knowledgeable staff will provide you with all of the information you need to make the most informed decision.
Blu-U® light treatments take only 15 minutes once or twice a week, while you sit comfortably beneath the light with a special pair of glasses to protect your eyes. Blu-U® acne light therapy is safe, not painful, and your treatments may take up to five weeks or longer depending on your situation. You may require maintenance treatments to keep the clearing at an optimum level and within a few weeks, Blu-U® light can give you back your beautiful complexion.
For more information about Blu-U® or to learn if this acne treatment is the best choice for your needs, call Fiala Aesthetics at 407-339-3222 and schedule your consultation today. Located in Altamonte Springs, we serve all surrounding areas of Florida including Winter Park and Orlando.