Mommy Makeover in Orlando, Florida
While children themselves can be a source of joy, the "wear and tear" that pregnancy puts on a mother's body is not always quite so joyous.  Changes in the tummy, the waist, and the breasts are just a few areas that can change significantly after one or multiple pregnancies.
Fortunately, a combination of plastic surgery procedures can safely and effectively address many of these issues to help women regain their pre-pregnancy shape and form.
What does our Mommy Makeover include?
A "mommy makeover" usually involves some combination of a tummy tuck, liposuction of the waist, and breast enhancement.  It is one of the most popular combination procedures at Fiala Aesthetics.  For some women, other issues may need to be addressed, such as breast ptosis (breast droop), or contouring of other body areas, such as the hips or inner thighs.  Dr. Fiala can help with these as well, but they may require a second surgical session, depending on the individual situation.
One of the unique advantages of having this procedure at Fiala Aesthetics is our advanced "TAP block" technique, which numbs up most of the abdomen for the first three days, making the procedure much more comfortable than ever before.  Dr. Fiala is one of the developers of this technique, which uses an ultrasound-guided injection of a long-lasting local anesthetic, which is placed once the patient is asleep.
For many women, the three-in-one Mommy Makeover procedure is all they need to bring their body back to "the way it was before baby" or make it even better than it ever was.
The Mommy Makeover concept starts with a high-quality tummy tuck.  By removing the loose abdominal skin and any stretch marks that are below the belly button, and repairing abdominal muscle laxity, Dr. Fiala can repair some of the more obvious changes that have happened due to previous pregnancies.  Careful placement and closure of the abdominal incision and paying close attention to making a pretty new belly button are hallmarks of our procedures.
Breast Augmentation
Breast augmentation is a common request during Mommy Makeovers, as many women find that they have lost significant breast volume after the completion of breastfeeding.  With this loss of size also comes a loss of upper pole fullness in the breast.  A proportionately sized breast implant, either saline, traditional silicone, or "gummy bear" silicone, can be used to restore the missing volume and enhance the fullness in the upper breast.
Actual Patient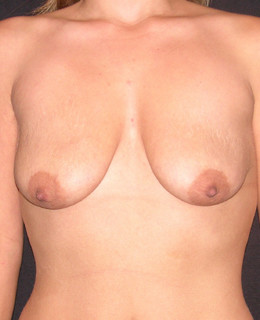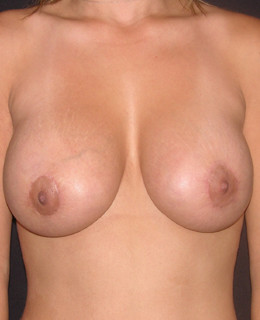 Actual Patient
Liposuction
Many women can also benefit from a little shaping of the waist area.  By shaping the curve of the back ("flank") area with liposuction at the same time as the tummy tuck, the desirable hourglass figure can often be restored by eliminating the dreaded "love handles" or "muffin top" at the back, and fixing the loose skin at the front of the abdomen.  We use the SAFElipo approach, using power-assisted liposuction, for a comprehensive body contouring process.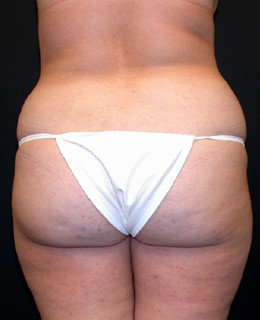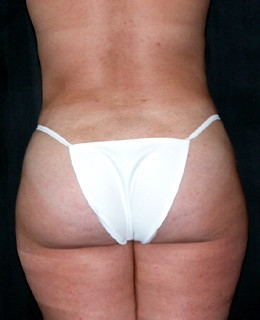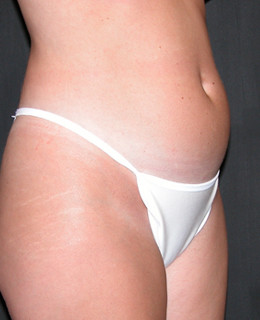 Actual Patient
Want to learn more about a Mommy Makeover?
Read more about the individual procedures offered during the Mommy Makeover, visit their pages: