Botulinum Toxin (Botox) Procedure Steps
Posted on June 2, 2017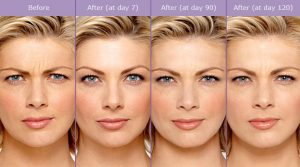 Botox has continued to rank as the number one anti-aging non-cosmetic surgery procedure in the US for many years. The injectable procedure is aimed at reducing mild to moderate wrinkles and fine lines from the face. During the initial Botox consultation, the provider will explain the steps involved in the procedure.
Botox injection procedure will typically take less than 20 minutes at the provider's office. Most patients can resume their normal routine immediately after the treatment or return to their workplace. Board certified and terrific plastic surgeon Dr. Thomas Fiala provides the FDA approved Botox injection treatment to patients in Orlando, Altamonte Springs, FL, and other cities and neighborhoods in this part of the country.
 
Choose a Provider
Once the patient has made up their mind to receive Botox injections, they should select a treatment provider who is qualified to deliver this treatment in a safe and successful manner.
In ideal circumstances, the patient may choose a practice led by a cosmetic surgery expert or a board certified plastic surgeon who additionally provides non-surgical aesthetic procedures such as Botox. These practitioners would adhere to the best medical practices and maintain high quality standards in addition to following the latest safety protocols.
 
Information Disclosure
At the time of Botox consultation, the patient should be prepared to disclose relevant information before the treatment provider. They must inform if they have received Botox injections in the past six months, or if they are currently using any muscle relaxants, sleeping pills or anti-allergy drugs.
If the patient is using blood thinners such as aspirin or NSAIDs, they will be asked to avoid them for a certain time period prior to the Botox injections. The patient will also be required to refrain from smoking for a specified time period as per the treatment provider's instructions.
 
Botox Appointment
The actual injection treatment at the provider's office will not take more than a few minutes. The provider will identify and mark the targeted areas in the face that need to be addressed with Botox. They will cleanse the area with a mild cleansing agent to disinfect. Anesthesia is usually not required, but the provider may apply a topical numbing cream in the targeted areas for improved patient comfort.
The provider will use a narrow gauge micro needle to inject Botox directly into the target wrinkle forming muscles. Forehead horizontal lines, area between the eye brows, and outer eye areas are typically treated with Botox. An individual facial muscle may be treated with one to three injections, depending on the extent of correction needed.
 
Post-Treatment Care
Once the treatment is over, the provider will give a few guidelines to the patient to ensure successful outcomes. The patient must not lie down for about four hours after the treatment. They should also refrain from rubbing the injection sites for at least 24 hours.
These simple precautions will help to ensure that the Botox medication does not spread to unintended sites. To achieve extended benefits, the patient may repeat the Botox injections in future. Profound plastic surgeon Dr. Fiala receives patients from Orlando, Altamonte Springs, FL, and other cities and suburbs in this part of North Florida for Botox.
For more information of the treatments and procedures offered at this Plastic Surgery Center & Orlando Medical Spa by Dr. Thomas Fiala please contact us at (407) 339-3222 or visit www.plasticsurgeryinflorida.com ; day-spa-orlando.com ; coolsculptinginorlando.com