Breast Implant Displacement Treatment
Posted on June 5, 2023
Over time, breast implants may move or become dislodged from their intended position within the breast.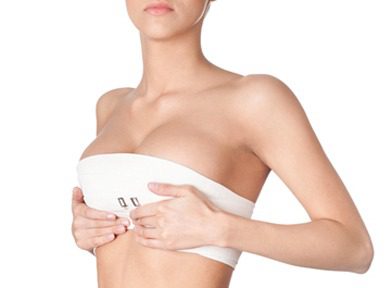 Breast implants are a popular cosmetic procedure among women seeking to enhance the size and shape of their breasts. However, like any surgical procedure, breast augmentation carries some risks, one of which is the displacement of breast implants.
This refers to a situation where the implants shift or move from their intended position within the breast, causing visible changes to the breast shape or position. The causes of implant displacement can range from surgical factors to trauma, aging, and implant rupture. It's essential to understand the types of breast implant displacement, symptoms, and available treatment options to make an informed decision about breast implant surgery.
Causes of Breast Implant Displacement
Breast implant displacement can result from various factors, including trauma, aging, and implant rupture. Improper surgical techniques, such as incorrect placement or creating an implant pocket that's too large, can cause the implant to move out of position. Trauma or injury to the breast, such as a fall or a car accident, can also dislodge the implant.
As the breast tissue ages and changes, it may no longer support the implant in its original position, leading to displacement. Capsular contracture, which is the formation of scar tissue around the implant, can also cause displacement. Finally, implant rupture, either from a tear in the shell or a leak in the filler material, can cause the implant to shift or move.
Types of Breast Implant Displacement
There are several types of breast implant displacement, each with its unique characteristics. Bottoming out occurs when the implant slips below its original position, causing the nipple to appear too high on the breast. A double bubble happens when the implant falls below the natural breast crease, creating a visible line across the breast.
Symmastia, also known as "uni-boob," is when the two implants merge in the center of the chest, giving the appearance of one large breast. Lateral displacement occurs when the implant moves toward the side of the chest, while upward displacement happens when the implant shifts toward the collarbone. Knowing the different types of implant displacement can help patients identify any changes in their breasts and seek appropriate medical attention.
How Can I Tell If My Breast Implants Have Shifted?
Diagnosis and Treatment of Breast Implant Displacement
Diagnosing breast implant displacement typically involves a physical examination and imaging tests, such as mammography or ultrasound. Treatment options depend on the type and severity of the displacement. Plastic surgery may be necessary to reposition the implant or replace it entirely. Non-surgical options, such as supportive bras or massage therapy, may also be helpful in some cases.
Capsular contracture may require the removal of the scar tissue or implant, with a possible replacement of the implant. It's crucial to seek medical attention if experiencing symptoms of breast implant displacement, as leaving it untreated can lead to further complications. Patients should consider a board certified plastic surgeon to discuss the best treatment options based on their individual needs and circumstances.
Conclusion
Breast implant displacement is a potential complication of breast augmentation surgery that can cause visible changes in breast shape or position. Understanding the causes, types, symptoms, diagnosis, treatment, and prevention of implant displacement can help patients make informed decisions and seek prompt medical attention. With proper care and attention, patients can maintain the optimal position and appearance of their breast implants.
For More Information on the Treatments and Procedures offered, contact award-winning Board Certified Plastic Surgeon Dr. Thomas Fiala at Fiala Aesthetics in Greater Orlando to Schedule Your Consultation:
Voted the #1 Best Plastic Surgeon in Orlando, Florida by the readers of Orlando Magazine.


Serving patients in and around Greater Central Florida: Orlando, Altamonte, Lake Mary, Maitland, Winter Park, Clermont, Casselberry, Lake Mary, Longwood, Celebration, Heathrow, Windermere, Dr. Phillips, Sanford, Deltona, Deland, Daytona Beach, Melbourne, Cocoa Beach, New Smyrna Beach, Tampa, Jacksonville, Sarasota and more.