Breast Implant Extrusion
Posted on October 1, 2023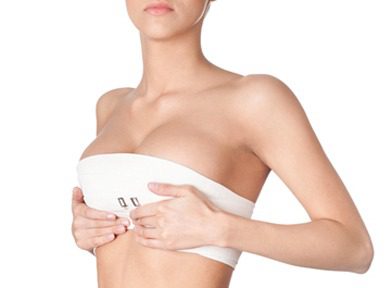 Breast augmentation is a common cosmetic procedure that can significantly enhance a woman's confidence and self-esteem. However, like any other surgery, it carries risks, and one of these risks is breast implant extrusion. Breast implant extrusion occurs when the implant pushes through the skin and becomes visible. This complication is rare, but it can happen, and it's essential to understand its causes, symptoms, and treatment options. Read on to learn more.
What Causes Breast Implant Extrusion?
Breast implant extrusion can be caused by several factors, including infection, trauma, and skin necrosis. Infection can occur during or after surgery and can cause the incision to open, leading to the implant pushing through the skin. Trauma can also cause the implant to extrude, such as when the breast is hit or bumped. Skin necrosis, which is the death of skin tissue, can occur due to poor blood flow to the area, which can happen in smokers or individuals with certain medical conditions.
Symptoms of Breast Implant Extrusion
The most common symptom of breast implant extrusion is the visible appearance of the implant pushing through the skin. Other symptoms may include pain, redness, swelling, and tenderness in the affected area. If you experience any of these symptoms, it's crucial to contact your board certified plastic surgeon immediately.
Treatment Options for Breast Implant Extrusion
If you suspect that you have breast implant extrusion, your surgeon will assess the severity of the condition and recommend the appropriate treatment. The surgeon may recommend antibiotics to treat any infection or inflammation in mild cases. If the implant is visible, the surgeon may remove it and allow the incision to heal before replacing it. In severe cases, the surgeon may recommend removing the implant and performing reconstructive surgery to restore the breast's appearance.
Preventing Breast Implant Extrusion
While breast implant extrusion is rare, there are several steps that you can take to reduce your risk of developing this complication. The first step is to choose a board certified plastic surgeon who has experience performing breast augmentation procedures. The surgeon will provide you with information on the procedure, the risks involved, and what to expect during the recovery period.
It's also essential to carefully follow your surgeon's pre and post-operative instructions. Before the procedure, your surgeon may recommend that you quit smoking and avoid certain medications and supplements that can increase the risk of bleeding. After the surgery, following the instructions regarding wound care, activity level, and follow-up appointments is crucial.
Conclusion
Breast implant extrusion is a rare complication of breast augmentation surgery that can be caused by infection, trauma, or skin necrosis. While it's a rare complication, it's essential to understand its causes, symptoms, and treatment options. By carefully following your surgeon's pre and post-operative instructions, you can reduce your risk of developing complications such as breast implant extrusion. Remember, a successful outcome of plastic surgery starts with selecting the right surgeon.
For More Information on the Treatments and Procedures offered, contact award-winning Board Certified Plastic Surgeon Dr. Thomas Fiala at Fiala Aesthetics in Greater Orlando to Schedule Your Consultation:
Voted the #1 Best Plastic Surgeon in Orlando, Florida by the readers of Orlando Magazine.


Serving patients in and around Greater Central Florida: Orlando, Altamonte, Lake Mary, Maitland, Winter Park, Clermont, Casselberry, Lake Mary, Longwood, Celebration, Heathrow, Windermere, Dr. Phillips, Sanford, Deltona, Deland, Daytona Beach, Melbourne, Cocoa Beach, New Smyrna Beach, Tampa, Jacksonville, Sarasota and more.