CoolSculpting FAQ
Posted on June 3, 2020
WHAT IS COOLSCULPTING?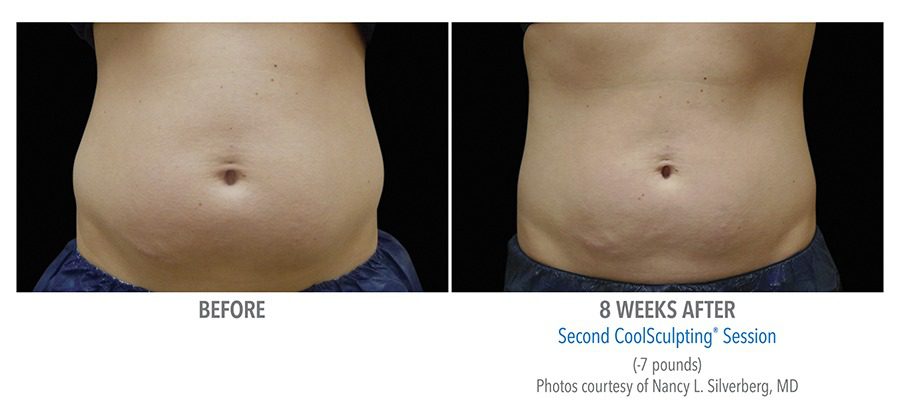 CoolSculpting is a radical new fat reduction technique that uses cooling technology to eliminate unwanted fatty deposits that have proven resistant to diet and exercise. CoolSculpting isolates fatty tissue between two panels and literally freezes the fat cells. The freezing action causes the fat cells to die, and to then be naturally and permanently reabsorbed by the body over a period of several weeks or months.
AM I A GOOD CANDIDATE FOR COOLSCULPTING?
CoolSculpting is not a weight loss procedure. The ideal candidates for CoolSculpting are already at or near their ideal weight, and maintain a healthy diet and active exercise routine. CoolSculpting targets and gradually eliminates stubborn fatty tissue that diet and exercise alone may not be able to reduce. It is ideal for excess fatty deposits on the abdomen, waist, thighs, or buttocks.
IS COOLSCULPTING PAINFUL OR UNCOMFORTABLE?
No. During the procedure, you will experience intense cold and pressure on the targeted area for a few minutes, but you should not experience any pain or discomfort. The procedure does not require anesthesia or sedation. You will be awake and alert throughout the procedure, and will be able to watch TV, read, listen to music, or simply rest.
HOW LONG DOES A COOLSCULPTING TREATMENT TAKE?
A typical CoolSculpting session takes about one hour, but could be longer depending on the extent of fatty tissue being targeted. At your initial consultation with Dr. Fiala, we will review your medical history and your aesthetic goals in order to determine the specific duration of your required treatment.
FOR HOW LONG WILL MY NORMAL ACTIVITIES BE DISRUPTED?
CoolSculpting can be scheduled for your lunch hour or when your kids are at school. It usually does not require any downtime, and you may resume regular activities immediately after the treatment is completed.
IS COOLSCULPTING SAFE?
Yes, CoolSculpting is safe and effective. It has received FDA approval for the treatment of unwanted body fat in the abdomen, waist, and flanks.
WHAT ARE THE SIDE EFFECTS OF COOLSCULPTING?
CoolSculpting is not known to have any long-term or serious side effects. Some patients may experience minor, short-term side effects such as swelling, bruising, redness, discomfort, and numbness at the treatment side; however, these side effects will disappear quickly and do not require special attention.
ARE COOLSCUPLTING RESULTS VISIBLE IMMEDIATELY?
Most patients experience about 20 percent fat reduction in the target areas, leading to stunning long-term results! Because CoolSculpting works by freezing unwanted fat cells, causing them to be reabsorbed by the body, patients begin to see results within three weeks after the procedure, as the re-absorption process takes effect. The most dramatic results become visible within two to four months.
WILL I NEED MORE THAN ONE COOLSCULPTING TREATMENT?
Most patients who undergo CoolSculpting require only one treatment, as a single treatment can reduce unwanted fat cells by about 20%. However, some individuals may require multiple treatments to ensure satisfactory results. This decision is made on a case-by-case basis during the initial consultation, and depends on each individual patient's unique medical history, body type, and aesthetic goals.
DOES COOLSCULPTING LEAD TO PERMAMENT RESULTS?
CoolSculpting works by literally freezing fat cells to death, allowing them to be permanently re-absorbed by the body. Therefore, the results of CoolSculpting are permanent, as long as you maintain a healthy diet and exercise routine and prevent the body from building new fat cells in those areas.
CONTACT FIALA AESTHETICS
If you would like to safely and comfortably freeze away unwanted fat in order to sculpt, tighten, or tone your physique, or would like additional information about whether CoolSculpting might be the right choice for you, please contact Dr. Thomas Fiala at Fiala Aesthetics in Orlando, Florida. We look forward to speaking with you, and to scheduling your initial consultation with Dr. Fiala today!
For More Information on the Treatments and Procedures Offered, contact Board Certified Plastic Surgeon Dr. Thomas Fiala at Fiala Aesthetics in Greater Orlando to Schedule Your Consultation:





Serving patients in and around Greater Central Florida: Orlando, Altamonte, Lake Mary, Maitland, Winter Park, Clermont, Casselberry, Lake Mary, Longwood, Celebration, Heathrow, Windermere, Dr. Phillips, Sanford, Deltona, Deland, Daytona Beach, Melbourne, Cocoa Beach, New Smyrna Beach, Tampa, Jacksonville, Sarasota and more.
Voted the #1 Best Plastic Surgeon in Orlando, Florida by the readers of Orlando Magazine.