Drug smuggler puts cocaine in her breast implants…
Posted on December 18, 2012

File this report under "news of the weird"…cocaine smuggled inside a breast implant.
A Panamanian citizen travelling from Bogota, Colombia flew to Barcelona.  But she wasn't acting right, making security officers there suspicious that she might be carrying drugs either on her person or in her luggage.  After all, Colombia is the source for 90% of the cocaine smuggled into the U.S.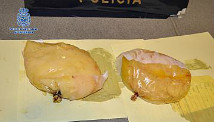 She also had fresh blood stains under her breasts.When a female officer patted down the woman, she found blood-stained bandages beneath the passenger's breasts, covering fresh, poorly-repaired incisions.
"Fresh breast implants" was the supposed explanation. The story didn't convince the police, who detained her, and took her to the hospital, where the surgery team removed a plastic bag – not a real breast implant, as you can see in the photo – from each breast, filled with cocaine.  Nearly 3 pounds of it (over $100,000 value).
Needless to say (bad pun alert!) the drug trafficking lady was "busted", and is now in jail.
Wasn't this done on  the TV show "Nip / Tuck"?  A sad case of real life imitating fiction.
Photo source: CNN.com