Facelift Before and After Photos
Posted on December 25, 2014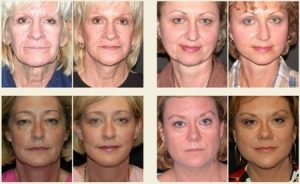 Facelift surgery 
ranks among the top five cosmetic surgery aesthetics procedures in the U.S. today. The procedure is designed to enhance the facial appearance by reducing wrinkles and lines and restoring a younger looking face. It is important for a new patient to learn as much about the facelift procedure as possible before making a final decision about it.
An experienced plastic surgeon will educate the patient about various aspects the surgery in order to help the patient make an informed choices. In this respect, the surgeon may make use of facelift before and after photos. Dr. Thomas Fiala is a leading plastic surgeon providing facelift and other surgeries to patients in Orlando, Altamonte Springs, FL, and surrounding communities.
What are Facelift Before and After Pictures?
Before and after pictures in case of facelift cosmetic surgery aesthetics procedure refer to a pair or group of images belonging to a previous patient who has been through the same procedure with successful results. These pictures are taken prior to the procedure and after the procedure at a time when the swelling and bruising has subsided and full effects of the procedure are visible.
The plastic surgeon will take these photos with the consent of the patient, and present them before new patients in a discreet way. The only purpose of the surgeon is to use these images to educate new patients about various aspects of facelift surgery. During the initial consultation process, facelift before and after images can serve as a useful visual aid, in order to help the patient make an informed choice.
Benefits
Many people are bothered by the conspicuous aging signs on the face and loose facial skin. However, all of them may not have a clear idea of how the facelift procedure can improve their facial appearance and restore a more youthful face. When a new patient seeks a facelift, they may require a full facelift or a mini facelift, depending on the condition.
In some cases, fat transfer technique or facial implants may be required. Some patients may need a combination of facelift, neck lift and another upper face surgical procedure. In all such situations, it can be confusing for a new patient to make the most appropriate choices. This is where the plastic surgeon will make use of facelift before and after photos to help the patient know exactly what the procedure can or cannot do for them, and enable them to make the right decision.
Forming Realistic Expectations
In any aesthetic procedure, it is important that the patient should have a positive mindset, clear aesthetic priorities and realistic expectations. With facelift before and after photos, it is possible to ensure that the patient knows exactly what to expect and what not to expect from the surgery. This mitigates the risk of any disappointment later on.
Digital Photos on the Website
The surgeon may choose to provide facelift before and after photos on their website. New patients can review the photos online even before they are ready to visit the surgeon's office for a personal consultation.
Contact Board Certified Plastic Surgeon Dr. Thomas Fiala at Fiala Aesthetics in Orlando to Schedule and Appointment:
For more information of the treatments and procedures offered at Fiala Aesthetics Plastic Surgery Center & Orlando Medical Spa by Dr. Thomas Fiala please contact us here.
Serving patients in and around Greater Central Florida: Orlando, Altamonte, Lake Mary, Maitland, Winter Park, Clermont, Casselberry, Lake Mary, Longwood, Celebration, Heathrow, Windermere, Tampa, Jacksonville, Sarasota and more.
Voted the #1 Best Plastic Surgeon in Orlando, Florida by the readers of Orlando Magazine.