Full Tummy Tuck Vs. Mini Tummy Tuck: Which Option Is Right for You?
Posted on April 26, 2023

6 Minute Read: 

If you've done your research, you've learned that there are several variations of the popular tummy tuck procedure, including the traditional (full) tummy tuck, the extended tummy tuck, and the mini tummy tuck.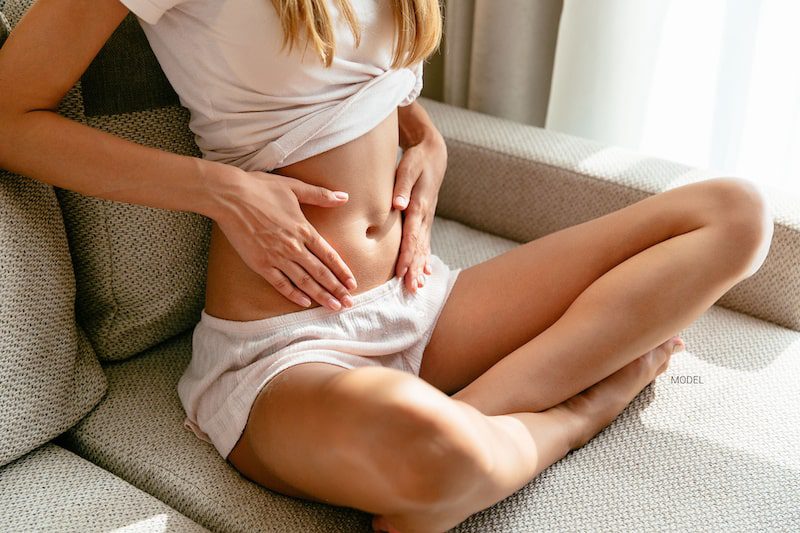 In reading about these techniques, you may secretly be hoping for a mini tummy tuck. And we understand that. In theory, the mini tummy tuck sounds great; it boasts a shorter incision and recovery period, and even the name "mini" is appealing. The mini tummy tuck sounds almost too good to be true, and for most patients, it is. 
The simple fact of the matter is that true candidacy for a mini tummy tuck is very rare, and the last thing you want to do is select a technique based solely on its potential "pros," particularly if it isn't going to work for you.

Fortunately, skilled board-certified plastic surgeons like Dr. Fiala in Orlando, Florida, take their time to evaluate your needs during your consultation and recommend the technique that will best address the root cause of your concerns safely and comprehensively. 
What Is a Tummy Tuck?
A tummy tuck (abdominoplasty) is a surgical procedure that addresses laxity in the abdomen, particularly the lower third (however, techniques can be extended to correct concerns in the middle and upper abdomen).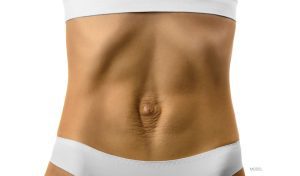 This common plastic surgery eliminates loose, sagging, or hanging skin — common after childbirth or weight loss — and localized fat deposits in the abdominal region. 
In addition, tummy tuck techniques also correct diastasis recti, which is the weakening and separation of the abdominal muscles. The condition often appears as a "pooched" or wrinkled appearance and is very common in women post-childbirth. Sadly, rectus diastasis cannot be addressed without surgery, and can only be addressed with particular tummy tuck options.
The Mini Tummy Tuck Gives Mini Results
When it comes to plastic surgery, we all want optimal results with as little invasiveness as possible. Unfortunately, that isn't always feasible, and the mini tummy tuck is a great example of this. 
In Dr. Fiala's experience, only 1 in 20 women who consider a tummy tuck is an ideal candidate for a mini tummy tuck.
The mini tummy tuck is not a powerful operation. In fact, it is really more of a scar revision for a C-section than a true abdominoplasty. 
This technique only addresses the central part of the lower abdomen (below the belly button). Because a mini tummy tuck does not release the belly button, it cannot address anything above the navel (including diastasis recti) and does very little to address laxity towards the sides of the abdomen. 
To be a candidate for a mini tummy tuck, you should have good skin elasticity and tightness in the middle and upper regions and only slight looseness in the center of your belly below your navel.
How Can You Tell Which Abdominoplasty Is Right for You?
The best way to determine the extent of your abdominoplasty is by performing a simple test (which you can do at home).
To do this, lean forward at the waist. See where you can grab excess skin or fat pockets. This is roughly the length that your incision should be for optimal results. 
If you can only grab skin at the center of the abdomen (but not towards the sides), you may be a candidate for the mini. 
If you can grab skin as you move towards the hip bones, you are likely a candidate for a traditional (full) tummy tuck.
If your excess skin extends past the hip bone, you may be better suited for an extended tummy tuck.
If you have any muscle laxity, from the top to the bottom of the midsection, you will want a full or extended tummy tuck, as these techniques allow for tightening all the way to the top of the upper abdomen.
Many of Dr. Fiala's tummy tuck patients undergo the extended tummy tuck.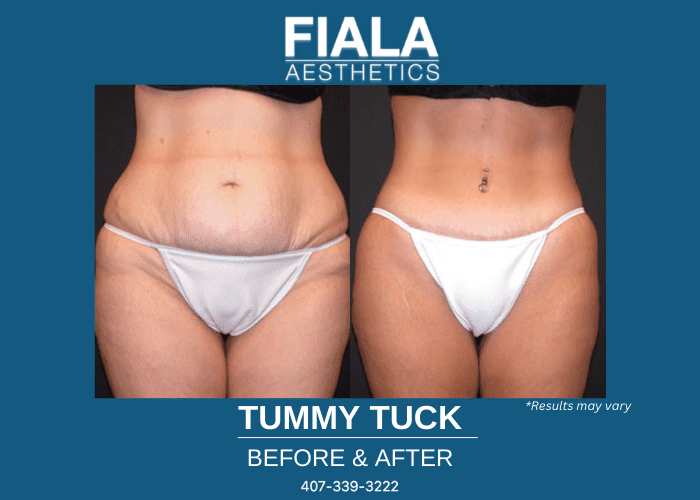 What Happens If You Undergo a Mini Tummy Tuck When You Need a Full or Extended Tummy Tuck?
Not only does a mini tummy tuck provide less substantial results, it can even create additional aesthetic problems when performed on the wrong candidate.
When incorrectly selected, a mini tummy tuck can create the look of "dog ears." This is an extra pucker of skin that sits just beyond the length of the incision. It is proof that your tummy tuck incision should have been longer.
While revision procedures are possible, it is very challenging to perform a traditional tummy tuck after a mini tummy tuck. The mini tummy tuck will eliminate some of the crucial skin needed for a low incision. Because of this, most patients require an additional vertical incision around the belly button that could have been avoided if they had just started out with a traditional or extended tummy tuck.
The mini tummy tuck has limitations, and while it leaves a much smoother look in your central (and lower) abdomen, it cannot achieve the same level of results as more comprehensive methods. Choosing the correct technique is essential, and the importance of finding the right surgeon who will be upfront and honest with you about your needs cannot be overstated. Dr. Fiala has been performing abdominoplasties for over 25 years, and he takes the time to evaluate all of his patients' particular concerns when determining their treatment plan.
Are You Concerned About Pain and Recovery After a Tummy Tuck?
One of the biggest selling points of a mini tummy tuck is that it comes with a "shorter, more manageable recovery time" than that of a traditional tummy tuck. However, Dr. Fiala employs several rapid recovery techniques that help patients get back on their feet following their full or extended tummy tucks with less pain, nausea, and other post-surgery concerns.
Dr. Fiala uses nerve blocks (TAP blocks) for every tummy tuck. A TAP block injects a local anesthetic between the transversus abdominis muscle and the fascial layer. This nerve block numbs the lower abdomen (where the incision is) for up to three days. This allows patients to get through the "worst" of recovery with less or no pain.
Additionally, Dr. Fiala prescribes anti-nausea medications, including Emend, before surgery that helps prevent nausea following surgery. This medication is a game changer for patients with a history of motion sickness, anesthesia-related nausea, and other common risk factors.
Consult With Board-Certified Plastic Surgeon Dr. Fiala in Orlando, FL, Before Your Tummy Tuck
Dr. Fiala's primary goal is for you to be happy with your results following your tummy tuck. This means matching the right technique with the right patient. 
If you are considering a tummy tuck, contact Fiala Aesthetics at 407-339-3222 or fill out our online form to schedule your consultation.
For More Information on the Treatments and Procedures offered, contact award-winning Board Certified Plastic Surgeon Dr. Thomas Fiala at Fiala Aesthetics in Greater Orlando to Schedule Your Consultation:
Voted the #1 Best Plastic Surgeon in Orlando, Florida by the readers of Orlando Magazine.


Serving patients in and around Greater Central Florida: Orlando, Altamonte, Lake Mary, Maitland, Winter Park, Clermont, Casselberry, Lake Mary, Longwood, Celebration, Heathrow, Windermere, Dr. Phillips, Sanford, Deltona, Deland, Daytona Beach, Melbourne, Cocoa Beach, New Smyrna Beach, Tampa, Jacksonville, Sarasota and more.