Have you heard about Belotero, the new filler?
Posted on May 10, 2013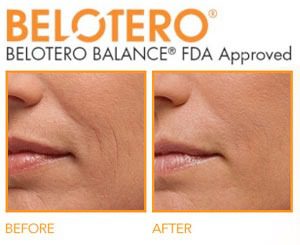 While most people are familiar with Restylane and Juvederm, you might want to get to know the new kid on the block, Belotero Balance.
Just like Juvederm and Restylame, 
Belotero 
is an FDA-approved filler that is also made from hyaluronic acid gel.  But it's manufactured a little differently, and has a smooth and soft consistency.  It's quite useful for superficial wrinkles, and gives a nice, natural-looking correction.
Other HA fillers, when they are placed too close to the surface of the skin, can have an issue called the "Tyndall effect" – which basically looks like a blue-grey colored bleb caused by the superficial placement of the filler.  This doesn't happen with Belotero.  So it's really quite useful in areas where the skin is thin, like near the eyes.  Belotero, however, does not come with added lidocaine, which may be a disadvantage for some patients, making the injections a little less comfortable.
The manufacturer, Merz Pharmaceuticals, claims that Belotero lasts longer than the other fillers, up to 12 months, rather than the usual 6 to 8 month duration for Juvederm.  I haven't seen a head-to-head comparison study yet, so will have to wait and see on that claim.
Contact Board Certified Plastic Surgeon Dr. Thomas Fiala at Fiala Aesthetics in Orlando to Schedule and Appointment:
For more information of the treatments and procedures offered at Fiala Aesthetics Plastic Surgery Center & Orlando Medical Spa by Dr. Thomas Fiala please contact us here.
Serving patients in and around Greater Central Florida: Orlando, Altamonte, Lake Mary, Maitland, Winter Park, Clermont, Casselberry, Lake Mary, Longwood, Celebration, Heathrow, Windermere, Tampa, Jacksonville, Sarasota and more.
Voted the #1 Best Plastic Surgeon in Orlando, Florida by the readers of Orlando Magazine.