How long do you have to have tummy tuck drains in for?
Posted on April 5, 2023
Tummy Tuck Surgery Recovery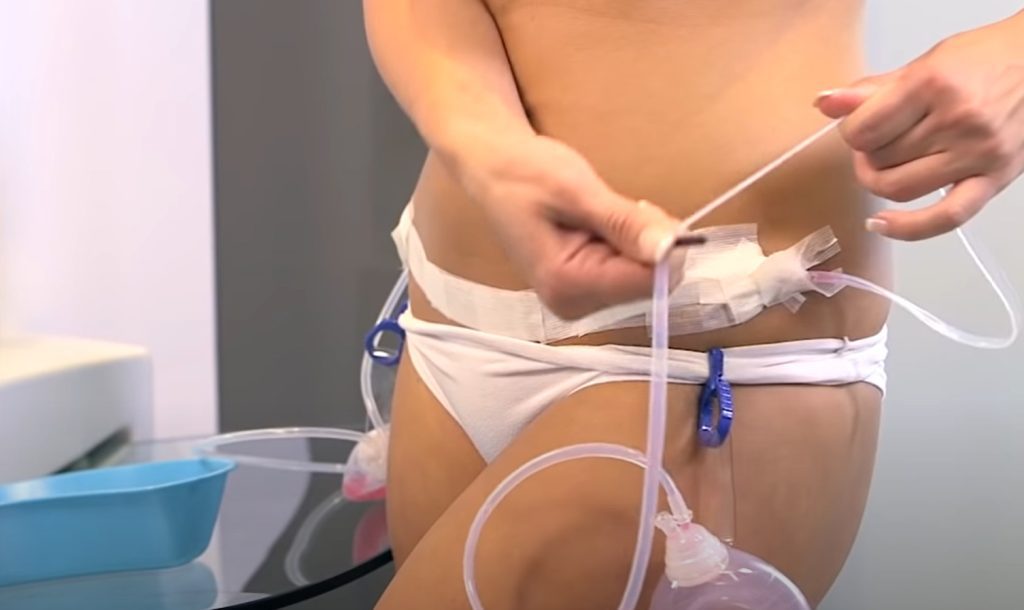 Candidates who have been researching different types of abdominoplasty (tummy tuck) will probably know about the temporary post-operative drains.
For people who have never undergone plastic surgery before, often just the word "drain" can be quite a turn-off.
However, these devices are not as scary as they appear. In most cases, they are an integral part of a proper post-operative plan to help expedite recovery times so that the patient is able to show off their new toned and flat tummy in no time.
What Are Tummy Tuck Drains?
After surgery, fluid – usually serous fluid comprising blood plasma from ruptured blood vessels and inflammatory fluid produced by the injured cells – has a tendency to accumulate in the region between the skin and muscle, called the "dead space."
This space is the reason for the fluid accumulation that triggers seromas. Therefore, in traditional abdominoplasty, steps must be taken to eliminate excess fluid accumulation in this region. A tube is placed in the soft tissue extends to the dead space enabling the body to eliminate the fluid.
After the abdominoplasty, the plastic surgeon inserts the drains. These drains are typically clear tubes made of silicone. They are inserted through a short incision behind the primary incision.
In a majority of cases, the drains run from either a tiny gap in the lower abdominal incision or the substantial surface area between the ribcage and pubic region.
The tube then extends out of the body into a small bulb around the size of a lemon. The fluid accumulation must be periodically emptied by squeezing the bulb, which causes a gentle suction that extracts fluid from the body.
Why Drains Are Used
The main function of these drainage tubes is to reduce the serous fluid accumulation in the incision and treatment areas. This helps reduce complications related to the abdominoplasty procedure.
In addition, the drain site helps prevent post-op seromas, collections of lymph fluid that can occur underneath the surface of the abdominal skin after surgery. Seromas can cause serious complications such as fever, pain, infection, inflammation, and blood drainage.
The duration of tummy tuck drain use differs between patients. A majority of surgeons state that they typically remove the final drain within one week. However, at times, patients need to keep them in for as long as two weeks.
How to Empty and Clean Tummy Tuck Drains
Any skilled cosmetic surgeon will provide the patient with proper drain care guidelines before their procedure. For best outcomes, it is advisable for patients to follow these instructions closely.
Generally, they will need to empty the bulb a few times daily until they have completely healed or their doctor considers it safe to take the drains out. It is essential to comprehend exactly how, and how frequently, to drain the fluid as well as the best techniques to ensure that the drains remain clean to prevent infection.
Showering and Routine Life with Drains
It can be challenging to bathe after the procedure, and it can be even more difficult when dealing with drains. Generally, patients should take gentle showers or sponge baths during recovery to prevent irritating their drains, stitches, or incisions.
For More Information on the Treatments and Procedures offered, contact award-winning Board Certified Plastic Surgeon Dr. Thomas Fiala at Fiala Aesthetics in Greater Orlando to Schedule Your Consultation:
Voted the #1 Best Plastic Surgeon in Orlando, Florida by the readers of Orlando Magazine.


Serving patients in and around Greater Central Florida: Orlando, Altamonte, Lake Mary, Maitland, Winter Park, Clermont, Casselberry, Lake Mary, Longwood, Celebration, Heathrow, Windermere, Dr. Phillips, Sanford, Deltona, Deland, Daytona Beach, Melbourne, Cocoa Beach, New Smyrna Beach, Tampa, Jacksonville, Sarasota and more.