How to Prevent Nausea After Plastic Surgery
Posted on August 29, 2023

3 Minute Read: 

When planning for plastic surgery, it's essential to review all of your questions and concerns with your surgeon. You'll discuss preoperative instructions, what to expect immediately after surgery, and anticipated recovery. One of the most important postoperative issues many of our patients are concerned about is the possibility of nausea from anesthesia and how to best treat nausea after surgery.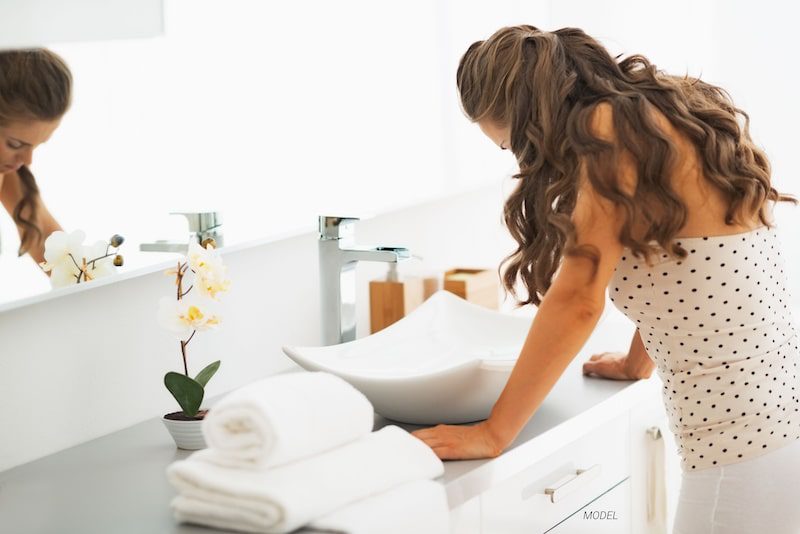 According to the National Institutes of Health, between 20 and 30% of surgery patients experience postoperative nausea and vomiting (PONV). It's one of the most common side effects of surgery and can lead to other complications if left unaddressed. 
At Fiala Aesthetics, Dr. Fiala ensures that every patient is as comfortable as possible before, during, and after surgery. Whether you're undergoing a Mommy Makeover or a breast reduction, Dr. Fiala is committed to making the process as easy as possible. 
What Causes Nausea After Surgery?
Nausea after surgery is a known side effect of general anesthesia. While everyone reacts differently to anesthesia, some common factors make you more likely to experience PONV. 
Females, non-smokers, and patients with a prior history of motion sickness all tend to have a higher risk for nausea after surgery.
Type of Surgery
Another contributing factor of PONV is the type of surgery you're undergoing. Certain procedures have a higher incidence of PONV than others. Abdominal surgeries (such as a tummy tuck) and eye and ear surgeries are known to have a higher risk of nausea and vomiting after surgery. 
Preventing Postoperative Nausea and Vomiting Before and After Surgery
To prevent PONV, Dr. Fiala uses pre-and post-op medications proven to reduce pain and nausea without relying on opioid pain relievers. If you are prone to motion sickness, post-surgical vomiting, or nausea, he may treat you with preventative medication before surgery, medicines during anesthesia, as well as postoperative medication. Not only will this make your recovery more manageable, but it also reduces the likelihood of complications brought on by vomiting after surgery. Some of the medications he uses include:
Emend 
Emend is the brand name for aprepitant, a medication used alongside other anti-nausea medications to prevent vomiting. It blocks the release of neurokinin, a chemical in your brain that induces nausea and vomiting. 
Emend is typically taken prior to surgery. It only works to prevent nausea and vomiting, not to treat it after it has started. Emend can interact with several other medications, so you must be honest with Dr. Fiala about all your medications and supplements. 
Emend has been a "game-changer" for patients with prior nausea problems. We have found it to be very effective. 
Zofran
Zofran is the brand name for ondansetron, a medication that blocks serotonin to prevent nausea and vomiting. While it's best utilized as a preventative measure, it also works to help stop vomiting and nausea once they've started. You may take it for up to two days after your surgery.
Preventing PONV at Home
If you're concerned that you might have PONV after your surgery, there are a few things you can do to help prevent it once you're recovering at home after surgery. 
Stay adequately hydrated
Don't take medication on an empty stomach 
Be careful as you return to your regular diet, and focus on eating nutritious foods that are easy on your stomach 
Following these easy steps will help you recover more easily overall with less risk of complications and nausea. 
Keep in mind that if you do experience nausea or vomiting, contact Dr. Fiala so that he can ensure that you're healing properly and help you prevent further discomfort or recovery complications. 
Want More Information on Plastic Surgery Procedures in Altamonte Springs?
Dr. Fiala is a board-certified plastic surgeon who is constantly innovating in his practice. His goal is to safely provide every patient with the gorgeous results they want, with minimal complications, pain, or nausea during their recovery. If you're looking for a top-quality plastic surgeon in Altamonte Springs, look no further than Dr. Fiala and Fiala Aesthetics. 
Call our office today at 407-339-3222, or fill out the contact form on our website to schedule a consultation.