Hydrafacial Treatments
Posted on October 10, 2023
Hydrafacial Treatment Benefits
Get the best skin and hair of your life! Only HydraFacial uses patented technology to cleanse, extract, & hydrate with super serums made with nourishing ingredients that create a gratifying glow. Our device uses Vortex Fusion Technology, which works like a vacuum to penetrate inner pores and increase the effectiveness of the treatment.
Cleanse – Deeply cleanses and exfoliates with a gentle peel to uncover a new layer of skin.
Extract – Removes impurities from pores with painless gentle suction.
Hydrate – Saturates the skin's surface with intense moisturizers and nourishing, personalized ingredients.
Treatment Types
Face
Personalize your facial to address your unique concerns like. Choose from a curated selection of powerful boosters to experience results.
Fine lines & wrinkles 
Youthful, plump, hydrated skin
Sculpted features and enhanced volume
Visibly soften fine lines and wrinkles
Dark spots
Minimized look of dark spots
Visibly brightened, balanced and smooth skin
Acceleration of skin surface renewal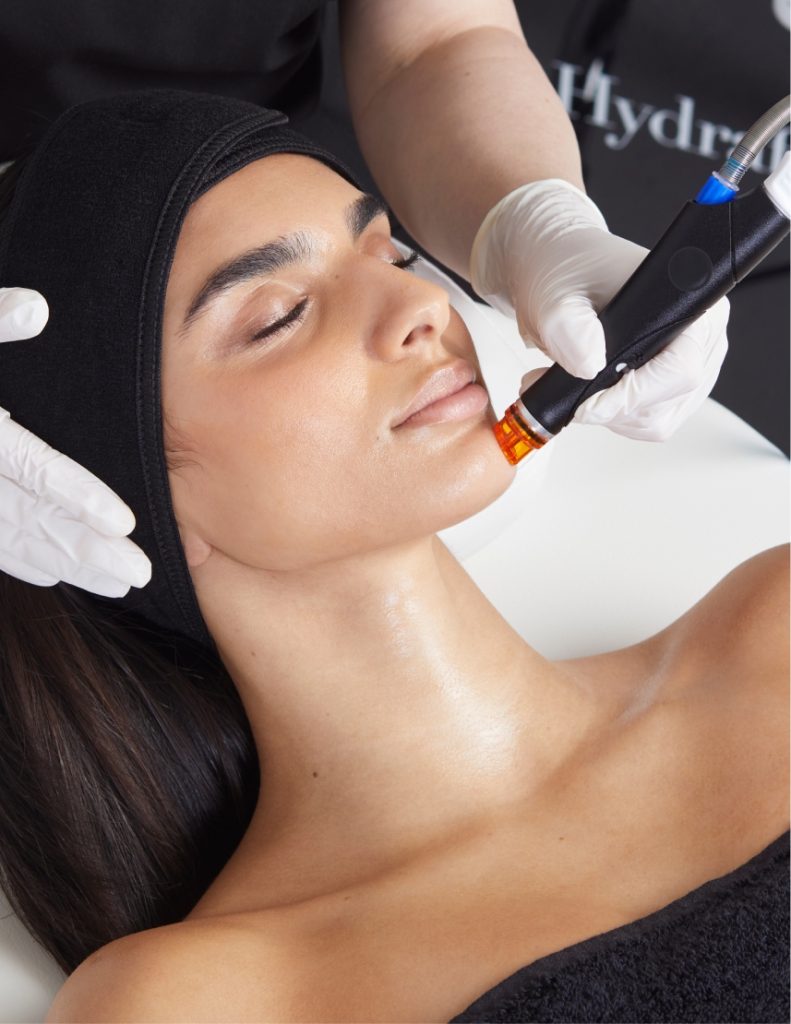 Elasticity & firmness
Visibly improves skin firmness and volume
Improved hydration, repaired, and radiant skin
Visibly soften fine lines and wrinkles
Redness
Visibly reduced redness and calmed skin
Optimal hydration
Hydration
Optimal hydration
Radiant, repaired skin
Additional protection from free radical damage
Pigmentation
Minimized look of hyperpigmentation
Visibly brightened, balanced and smooth skin
Acceleration of skin surface renewal
Congestion & acne
Fewer breakouts
Purified, detoxed pores
Acceleration of skin surface renewal and plump skin
Pore size
Acceleration of skin surface renewal
Dissolved oil and detoxed pores
Plumped, hydrated skin
Body
Improve redness, congestion, and texture in areas like:
Back
Booty
Thighs
Arms
Neck and Décolleté
Hands
Lip & Eyes
Revitalize and exfoliate the most delicate areas of the face with two targeted treatments:
Perk Lip
Lightly plumped lips
Hydrated lips
Visibly smoother and exfoliated lips
Perk Eye
Visibly brightened, toned, and firmer outer eye
Rejuvenated, hydrated, radiant skin
Acceleration of skin renewal and plump skin
Scalp
Decongest and drastically improve scalp health to support natural hair growth with:
Hydrafacial Keravive
The Hydrafacial Keravive scalp treatment is a low-risk and minimally invasive scalp treatment that has many benefits to the health of your scalp and hair. While it does not directly influence hair growth, the scalp treatment can help to promote new growth by creating an optimal environment for follicles and improving the appearance of existing hair.
Hydrafacial Keravive treatment supports natural hair growth with hyper-concentrated cocktail of rejuvenating peptides to experience results like:
Cleaner exfoliated, and hydrated scalp and hair follicles
Increased scalp circulation
Visibly improved appearance of healthier, thicker, fuller-looking hair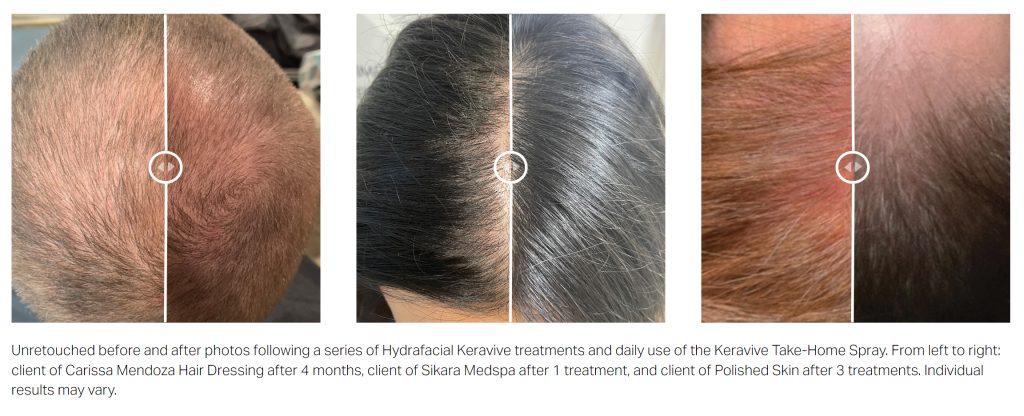 For More Information on the Treatments and Procedures offered, contact award-winning Board Certified Plastic Surgeon Dr. Thomas Fiala at Fiala Aesthetics in Greater Orlando to Schedule Your Consultation:
Voted the #1 Best Plastic Surgeon in Orlando, Florida by the readers of Orlando Magazine.


Serving patients in and around Greater Central Florida: Orlando, Altamonte, Lake Mary, Maitland, Winter Park, Clermont, Casselberry, Lake Mary, Longwood, Celebration, Heathrow, Windermere, Dr. Phillips, Sanford, Deltona, Deland, Daytona Beach, Melbourne, Cocoa Beach, New Smyrna Beach, Tampa, Jacksonville, Sarasota and more.