In the News: Factors That Make You a Poor Candidate for Liposuction
Posted on October 5, 2020
As Seen on RealSelf.com – Poor Liposuction Candidates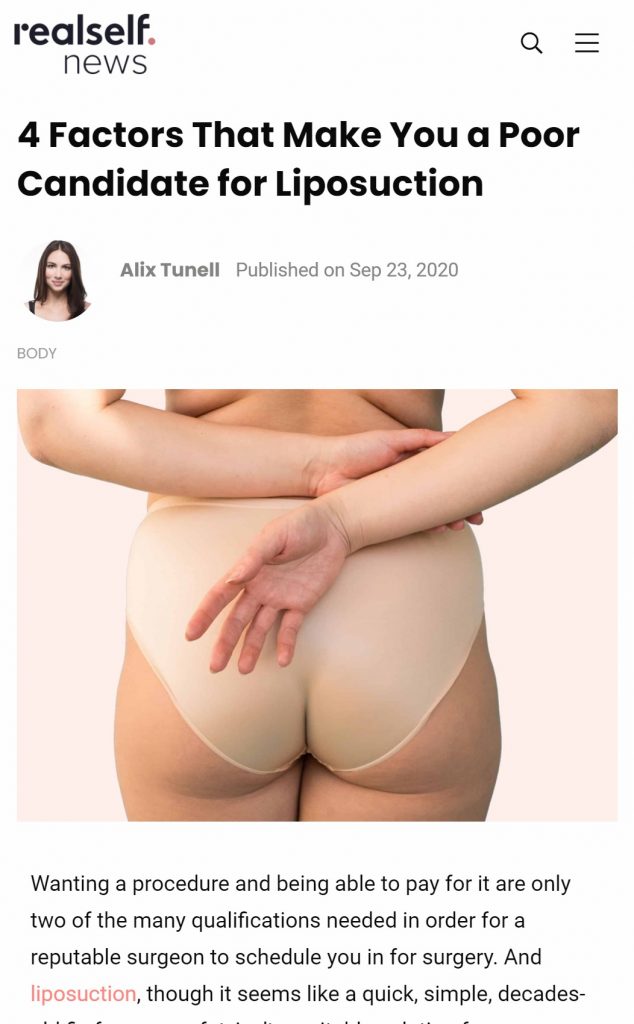 Wanting a procedure and being able to pay for it are only two of the many qualifications needed in order for a reputable surgeon to schedule you in for surgery. And liposuction, though it seems like a quick, simple, decades-old fix for excess fat, isn't a suitable solution for a surprising number of people. To determine whether it's right for you, doctors have to take into account your expectations, skin, visceral fat, medications, and more. Here are the factors that make you a less-than-ideal liposuction candidate.
1. You fall outside a certain BMI range.
2. You want more fat removed than is allowed.
3. You don't pass medical clearance.
4. You have cellulite, loose skin, or a history of keloid scarring.
Read More.

For More Information on the Treatments and Procedures Offered, contact Board Certified Plastic Surgeon Dr. Thomas Fiala at Fiala Aesthetics in Greater Orlando to Schedule Your Consultation:






Serving patients in and around Greater Central Florida: Orlando, Altamonte, Lake Mary, Maitland, Winter Park, Clermont, Casselberry, Lake Mary, Longwood, Celebration, Heathrow, Windermere, Dr. Phillips, Tampa, Jacksonville, Sarasota and more.
Voted the #1 Best Plastic Surgeon in Orlando, Florida by the readers of Orlando Magazine.