Liposuction Plastic Surgery Procedure Steps
Posted on May 26, 2021
Liposuction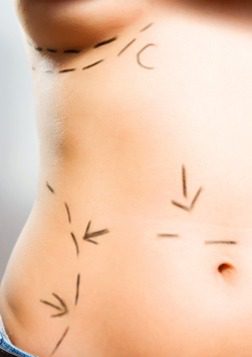 Liposuction procedure ranks high on the list of cosmetic surgery procedures performed in the US. This versatile surgery procedure can be performed using several different innovative techniques, such as laser liposuction, tumescent liposuction, and ultrasound-assisted liposuction. The procedure can be tailored as per the specific needs of patients. It is also highly customizable. Generally, the steps involved in a liposuction procedure remain the same for each case.
Your surgeon, during the initial consultation, will discuss the various steps involved in the liposuction procedure. This includes tips about recovery and preparation. The first concern of any surgeon will be to help patients make an informed decision. Once you know what is going to happen during your liposuction procedure, it will remove the uncertainty and help you go ahead with the surgery more confidently.
Anesthesia
Liposuction plastic surgery is usually performed using tumescent liposuction technique. This procedure can be performed without the need for general anesthesia. Mild sedation and lidocaine local anesthetic may be used for removing fat. General anesthesia is usually required when significant amount of fat needs to be removed from multiple locations.
Placing Incisions
Your surgeon following the anesthesia will begin the procedure by making incisions in pre-determined locations. The size of the incision usually ranges from a quarter to a third of an inch. Your surgeon will do everything possible to make the incisions in discreet locations. This is done to minimize scarring. Liposuction cosmetic surgery doesn't usually require major incisions unless it is combined with another surgical procedure, such as a breast lift or a tummy tuck.
Removing Fat Tissue
The surgeon will remove fat by inserting a thin cannula vacuum tube within the incisions into the deep fat layers. This cannula will be used for dislodging stubborn by gently manipulating it back and forth. Fat cells that get disrupted will then be suctioned out with the help of a syringe attached to the cannula.
Heat-Based Liposuction Techniques
An advanced heat-based liposuction technique involving RF, laser, or ultrasound energy may be used by the surgeon. This will work in liquefying the unwanted cells without using traumatic physical manipulation. It will also allow for removal of fat in a far less invasive manner. You would be given IV fluids during and after the surgery to compensate for loss of bodily fluids and blood.
Closure of Wound
Your surgeon will carefully suture the incisions close after removing excess fat tissue. Absorbable or traditional sutures may be used depending on the incisions and the surgeon. The surgeon may also place temporary drainage tubes under the skin for a few days to collect excess fluid.
Sutures and drains will be removed in 7 – 10 days following the surgery. Very small incisions may be kept open in some cases to expedite recovery and minimize bruising. This is usually done in the case of minor liposuction surgeries where significant fat removal is not involved.
For More Information on the Treatments and Procedures Offered, contact award winning Board Certified Plastic Surgeon Dr. Thomas Fiala at Fiala Aesthetics in Greater Orlando to Schedule Your Consultation:
Serving patients in and around Greater Central Florida: Orlando, Altamonte, Lake Mary, Maitland, Winter Park, Clermont, Casselberry, Lake Mary, Longwood, Celebration, Heathrow, Windermere, Dr. Phillips, Sanford, Deltona, Deland, Daytona Beach, Melbourne, Cocoa Beach, New Smyrna Beach, Tampa, Jacksonville, Sarasota and more.
Voted the #1 Best Plastic Surgeon in Orlando, Florida by the readers of Orlando Magazine.