Microneedling to Reduce the Signs of Aging
Posted on January 30, 2021
What is Microneedling?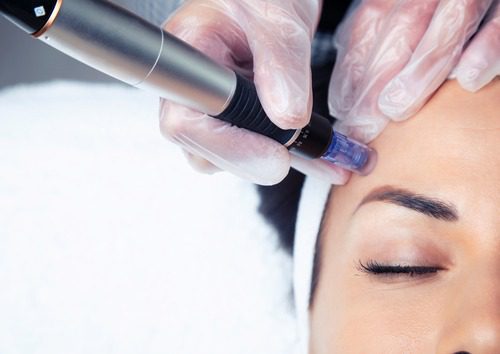 Microneedling is an advanced med spa procedure which helps rejuvenate and renew skin in a natural way. In comparison to other skin resurfacing techniques, microneedling provides a milder and more natural way to achieve youthful, brighter skin.
It enhances the skin's inherent ability to produce collagen and elastin. New collagen fibers help the skin heal and rejuvenate from within.
Microneedling can reduce the appearance of wrinkles, fine lines, sun spots, acne scars, and other skin aberrations in a safe and effective manner. It also increases the penetration of topical skin rejuvenation products to offer the patient dazzling and more youthful skin.
Choosing Microneedling
People with the following characteristics may be ideal candidates for microneedling med spa treatment:
Individuals seeking non-ablative and laser free treatments for skin resurfacing
Persons with multiple skin concerns such as uneven skin tone, acne scars, and enlarged pores simultaneously
Persons seeking to improve the appearance of aging signs via a procedure that does not involve injections
Individuals with darker skin tones making laser treatments less suitable for them
Persons with a preference for procedures that prompt skin improvement from within rather than superficial treatments
Key Insights
Microneedling is also known as Collagen Induction Therapy (CIT). It is an FDA-approved treatment for mitigating signs of aging and other skin conditions.
This procedure prompts skin renewal and rejuvenation from within offering the patient thicker skin while reducing the appearance of stretch marks, acne scars, and wrinkles.
The procedure does not involve injections, incisions or downtime.
Microneedling is mostly performed for facial skin rejuvenation. However, it can be effectively performed on any part of the body.
This procedure is safe for almost all skin tones and types.
Targeted Sites for Microneedling
Microneedling typically targets the following conditions on facial skin:
Acne scars
Sun spots (also known as "age spots")
Wrinkles and fine lines
Enlarged pores
Other types of scars
Skin elasticity loss
Irregular skin tone
Microneedling is also used to address stretch marks in various areas of the body in addition to treating facial skin issues.
According to one study, microneedling successfully reduced the appearance of stretch marks on the abdomen and thighs when used in combination with dermal fillers. Microneedling can also treat scarring on other areas of the body. But this treatment is usually administered on facial skin.
Minimal Discomfort
Microneedling is a quick procedure that does not involve any downtime. The patient experiences minimal discomfort during the microneedling procedure. The skin will look reddish or feel taut, warm, and rough in the initial three to seven days after the procedure.
Your microneedling provider will typically use a topical hydrating agent on the skin around one hour before the session to make sure that the patient remains comfortable during the treatment.
Microneedling is used to reduce the signs of aging. It can be used to improve the skin's tone, texture, improve pigmentation, and reduce the appearance of stretch marks and scars. Microneedling treatment reduces the appearance of fine lines and wrinkles, and brings a glow to the skin that results in younger looking skin.
For More Information on the Treatments and Procedures Offered, contact award winning Board Certified Plastic Surgeon Dr. Thomas Fiala at Fiala Aesthetics in Greater Orlando to Schedule Your Consultation:





Serving patients in and around Greater Central Florida: Orlando, Altamonte, Lake Mary, Maitland, Winter Park, Clermont, Casselberry, Lake Mary, Longwood, Celebration, Heathrow, Windermere, Dr. Phillips, Tampa, Jacksonville, Sarasota and more.
Voted the #1 Best Plastic Surgeon in Orlando, Florida by the readers of Orlando Magazine.