Microneedling vs Chemical Peel
Posted on October 15, 2021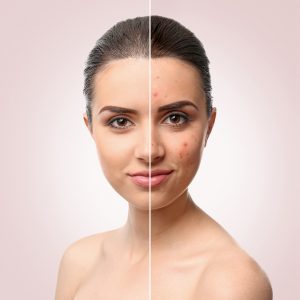 Chemical peels and microneedling are two popular nonsurgical med spa treatment options for correcting minor aesthetic issues and rejuvenating the skin. Both treatments have almost similar results with notable differences in application, downtime, and overall benefits.
Understanding Chemical Peels
Chemical peel can resurface your skin by using chemical solutions. The top layer gets exfoliated as the chemicals react to the skin. This causes the topmost layer to eventually peel off leaving smoother and younger skin.
Chemical peel treatments are of three basic types with varying strengths, effects, and downtime. Milder acid is used in superficial peels. These are helpful for mild discoloration. Medium level peels reduce the appearance of imperfections and penetrate the middle and outer skin layers. Deep chemical peels remove damages skin cells by penetrating middle layers.
Understanding Microneedling
Tiny needles are used in microneedling for creating micro-punctures on the skin. This is a noninvasive procedure that increases collagen production in the punctured areas. Collagen is the key ingredient in making your skin look firm, young, and smooth.
Microneedling is safe for all skin types. It is an effective and safe way for treating scars and other imperfections, such as sun spots, wrinkles, large pores, and others. The treatment is virtually pain free and results in dramatic improvements.
However, microneedling is not a one-and-done med spa treatment. You would require multiple sessions for attaining required results. Generally, patients need 4 – 6 treatment sessions. However, needs of every patient is different.
Treatment for Fine Lines and Wrinkles
Microneedling and chemical peels can help reduce the appearance of wrinkles. It can also help provide you with a youthful glow. Chemical peels tend to work best on imperfections in the superficial layers. Microneedling penetrates into the deeper layers for improving other troubling issues.
People with wrinkles usually find a combination of chemical peels and microneedling to deliver the best results. Microneedling can reach deep under the skin for promoting scar healing. This helps in long-term reduction in wrinkles. No real downtime is required in microneedling sessions.
Once the microneedling treatment is complete, moderate, or superficial chemical peel can be used for rejuvenating the skin further. This will leave you with younger and clearer looking skin. Deep peel is a profound option if you are looking for deeper wrinkle correction. However, the treatment requires longer downtime.
Best Option for Acne Scars
Both microneedling and chemical peels can improve the appearance of your skin. Chemical peels tend to work best on imperfections in the superficial skin layers while microneedling penetrates deeper. The majority of people find that a combination of chemical peels and microneedling brings forth the best results.
Microneedling can reach deep under the skin for promoting scar healing. Chemical peels can be used for rejuvenating the skin further once microneedling treatments are over. This can leave you with younger and fresher looking skin.
For More Information on the Treatments and Procedures Offered, contact award winning Board Certified Plastic Surgeon Dr. Thomas Fiala at Fiala Aesthetics in Greater Orlando to Schedule Your Consultation:
Serving patients in and around Greater Central Florida: Orlando, Altamonte, Lake Mary, Maitland, Winter Park, Clermont, Casselberry, Lake Mary, Longwood, Celebration, Heathrow, Windermere, Dr. Phillips, Sanford, Deltona, Deland, Daytona Beach, Melbourne, Cocoa Beach, New Smyrna Beach, Tampa, Jacksonville, Sarasota and more.
Voted the #1 Best Plastic Surgeon in Orlando, Florida by the readers of Orlando Magazine.