Reducing Breast Augmentation Complications
Posted on March 31, 2019

Breast augmentation complications are uncommon, but can be reduced by adopting scientifically-proven "best practices".  By staying "ahead of the curve" on developments in this field, Dr. Fiala offers a breast augmentation procedure that incorporates these updates, for the patient's benefit – with a quicker recovery and low rate of complications.
Types of Breast Implants
With patient safety in mind, Dr. Fiala has chosen to only offer smooth breast implants. There is preliminary evidence suggesting this type of breast implant may dramatically reduce the risk of ALCL, a rare type of lymphoma that has recently been linked to breast augmentation with textured-surface implants.
While all of the breast implants available through our office are smooth, we offer a comprehensive range of silicone and saline breast implants in different sizes and shapes, using FDA-approved manufacturers. Depending on your specific needs and desires, Dr. Fiala may recommend options including:
Standard saline and structured saline implants
Silicone and cohesive silicone ("gummy bear") implants
These implants are precisely shaped to produce natural-looking and highly complementary results and give patients a wide degree of choice to obtain their desired post-operative size and appearance.
Breast Augmentation Implant Incision and Placement Options
Although there are three common breast augmentation incision options, they are not created equal.
Periareolar – around the nipple
Inframammary – underneath the breast crease
Axillary – in the armpit
Of these options, Dr. Fiala prefers the inframammary incision for several reasons.  Multiple studies have shown that this breast augmentation incision has a lower overall risk of postoperative complications, including capsular contracture, a painful hardening of scar tissue around a breast implant, infection, interference with breastfeeding, and sensory changes.
Dual Plane Breast Implant Placement
Dr. Fiala has found that the dual plane method of breast implant placement often offers the most reliable and pleasing results for the average patient.  With this placement option, the implant is mostly covered by muscle, except in the lower, outer portion of the breast, where the implant is subglandular, since the pectoral muscle doesn't typically extend to that area.
Proven benefits offered by this breast augmentation technique include:
lower risk of capsular contracture, compared to subglandular placement
good visibility for post-operative mammograms
natural looking appearance
better implant coverage and less rippling for slender patients
less distortion of the breast when the patient is actively flexing, compared to traditional submuscular placement.
Keller Funnel/No-Touch Technique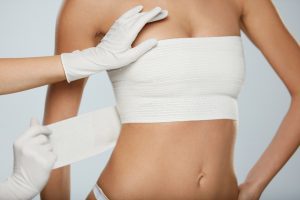 Dr. Fiala uses the Keller funnel and "no-touch" techniques for the placement of breast implants to reduce risks of both capsular contracture and infection. The funnels and implant pockets are irrigated with a betadine-containing solution to further reduce these risks. Fiala Aesthetics was one of the first practices in the Orlando area to adopt the use of the Keller funnel for every single implant, whether saline or silicone.
Dr. Fiala utilizes multi-modality anesthesia techniques to reduce pain and nausea during and after your procedure. He now offers PECS I and PECS II ultrasound-guided nerve blocks as well, which allow our patients to wake up with significantly less discomfort than standard techniques.
Fiala Aesthetics was one of the first plastic surgery practices in Florida to offer a rapid recovery program for dual plane breast implant placement. With this method, restrictive dressings are replaced with a comfortable and supportive bra, and prescription opioids are replaced with anti-inflammatory medications and muscle relaxants.
Many women find they are able to resume most normal activities within just a few days with this strategy, though more demanding exercises may need to be avoided for one month. Dr. Fiala will help you determine when it is safe to resume different activities during your follow-up visits.
Contact Us Today
Breast augmentation is our number one procedure. But while Dr. Fiala performs 200-300 breast augmentation surgeries every year, his dedication to each individual patient never waivers. At Fiala Aesthetics, your needs and desires are always taken into account and are considered just as important as your safety and comfort. All of this leads to happy patients who are able to enjoy personalized results from a plastic surgeon who truly cares about their long-term happiness.
If you are considering breast augmentation in the Orlando area, please call 407-339-3222 to schedule your consultation with Dr. Fiala.
For More Information on the Treatments and Procedures Offered, contact award winning Board Certified Plastic Surgeon Dr. Thomas Fiala at Fiala Aesthetics in Greater Orlando to Schedule Your Consultation:





Serving patients in and around Greater Central Florida: Orlando, Altamonte, Lake Mary, Maitland, Winter Park, Clermont, Casselberry, Lake Mary, Longwood, Celebration, Heathrow, Windermere, Dr. Phillips, Sanford, Deltona, Deland, Daytona Beach, Melbourne, Cocoa Beach, New Smyrna Beach, Tampa, Jacksonville, Sarasota and more.
Voted the #1 Best Plastic Surgeon in Orlando, Florida by the readers of Orlando Magazine.