Reducing Wrinkles Caused By Sun Damage, Aging, And Genetics With a Chemical Peel
Posted on January 15, 2022
Chemical Peel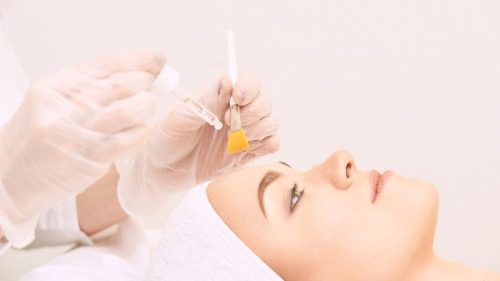 Chemical peel refers to a non-invasive cosmetic dermatology treatment that can improve the texture of facial skin. Peels can treat fine lines, blemishes, and irregular pigmentation by removing the uppermost dead skin layer to reveal a new layer of skin with a revitalized texture, color, and tone.
Chemical peels are classified as light, medium, and strong peels, and come in various potencies and types. The chemical peel provider should be experienced and well-qualified to ensure that the treatment is safe and predictable.
Fiala Aesthetics Medical Spa, led by board certified plastic surgeon Dr. Thomas Fiala, provides cosmetic treatments to patients in Orlando, Altamonte Springs, FL, and surrounding communities.
Superficial Peels
People with slight skin imperfections may benefit from a mild treatment such as a superficial peel. All skin types are suitable for these peels with negligible risk of complications.
The provider performs the procedure on an outpatient basis without the need for anesthesia. The treatment involves minimal discomfort to the patient during and following the procedure.
A med spa offering superficial peels will commonly use mild glycolic acid. The skin heals fast, and there is no downtime in a majority of cases. The skin may appear pink for a while, but this can be hidden using makeup until the skin becomes normal again.
Medium Peels
Medium chemical peels are administered as an outpatient treatment as well but typically warrant a few days of downtime. Medium peels usually involve a peeling agent known as TCA acid. This acid penetrates the skin at a deeper level in comparison to a superficial peel. The patient may use makeup around a week after the treatment, upon sufficient healing.
The patient experiences only minimal pain and discomfort after a medium chemical peel. Initially, the skin becomes reddish brown in the treated sites in nearly two to three days before turning crusty. The outer layer of the skin will flake and peel over the following few days to reveal a new skin layer that is brighter and more youthful.
Deep Peels
Deep peels offer the highest strength treatment to appropriate candidates seeking significant skin improvement in a nonsurgical way. Deep peels include more potent TCA concentrations. These peels will eliminate the skin's upper layers leading to new skin growth in around two weeks after the deep chemical peel procedure.
After receiving a deep chemical peel, a majority of patients need to account for at least two weeks of absence from work or social engagements. The skin's redness will start to subside in around three weeks after the peel. Complete outcomes with such peels will be apparent over many months, and patients usually experience remarkable enhancements in their skin.
Customized chemical peels can help reduce facial wrinkles and fine lines. They can also lighten hyperpigmentation and acne or acne scars.
Aftercare 
The patient will need to avoid exposure to the sun for many weeks or months according to the strength of the chemical peel treatment. Additionally, the patient should apply an SPF 30 or higher sunscreen when stepping outdoors after the peel.
Fiala Aesthetics Medical Spa receives patients from Orlando, Altamonte Springs, FL, and nearby areas for a variety of cosmetic procedures.
For More Information on the Treatments and Procedures Offered, contact award winning Board Certified Plastic Surgeon Dr. Thomas Fiala at Fiala Aesthetics in Greater Orlando to Schedule Your Consultation:
Serving patients in and around Greater Central Florida: Orlando, Altamonte, Lake Mary, Maitland, Winter Park, Clermont, Casselberry, Lake Mary, Longwood, Celebration, Heathrow, Windermere, Dr. Phillips, Sanford, Deltona, Deland, Daytona Beach, Melbourne, Cocoa Beach, New Smyrna Beach, Tampa, Jacksonville, Sarasota and more.
Voted the #1 Best Plastic Surgeon in Orlando, Florida by the readers of Orlando Magazine.