Rumor: Mentor to introduce "ultra high profile" implants to U.S. market
Posted on June 7, 2012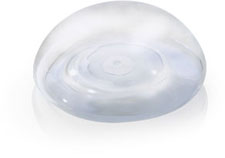 I have it on good authority that Mentor, the U.S. based implant maker, will soon be introducing a new implant product line, the so-called ultra high-profile breast implant.  This device has been available for a number of years outside of the U.S.  The product is designed to compete with Allergan's Style 45 ultra high profile implant.
The expected date of release is within 60-90 days.  It has the same Memory Gel as the current gel implants.  These implants are for women who want the roundest, fullest breast shape possible, or for those ladies who already have a moderate or high profile shape, and want to go larger, but not wider, with a new implant.  Admittedly, this is a small percentage of the patients that I typically see.
My source also dropped hints that the form-stable implant (aka "gummy bears"), formerly known as the Mentor CPG, would also likely be available soon.
UPDATE:  August 2012.  Not only are they now available, they are now here in my office!  We have the whole Mentor ultra high profile line of sizers, so that women who are seeking breast augmentation or implant exchanges can see if this option is right for them.